Dry Cleaning in Saskatoon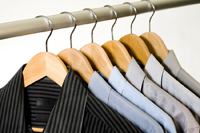 The Clean Shoppe provides several services for clothing and other household items. We have several convenient drop-off depots Around Saskatoon Martensville & Warman.
Personalized Clothes Care
We personalize our clothing care for your items. Whether you need an overall cleaning, stain removal, or have items with that require delicate cleaning, we can successfully clean any article of clothing from jeans and sweaters to suits and formal dresses.
Pick-up/Delivery Service
For a nominal charge we offer pick-up and delivery service in Saskatoon. Mornings, afternoons and evenings. Please email us to arrange a time that works for you, along with the address for the pick-up/delivery and a contact name and phone number.
Shirt Service
The Clean Shoppe offers shirt service for button downs, which includes starching, ironing, and creasing. If you need to look your best for work or an event, we will have your shirt clean, pressed, and ready to go.
Draperies
Draperies can be tough or impossible to clean at home due to their specialty materials and large size. Our dry cleaners have the space, tools, and cleaning substances to remove dust, dirt, and wrinkles, leaving your drapes looking clean and fresh.
Alterations & Repairs
It can be disappointing to pull out a new or favorite clothing item to wear, only to find it's torn or it doesn't fit. We can sew seam rips, patch holes, and put on new buttons. We also do alterations such as shortening pants and dresses, taking in dresses, jackets, and pants, or letting out any clothing item to ensure a perfect fit.
Feather Cleaning
If you have feather items in your home that have collected dust and dirt, bring them in to The Clean Shoppe for specialized cleaning that will restore them as good as new. We comb, straighten, fluff, and clean any type of feathers.
Leather Cleaning
Maintaining leather requires professional care as leather cannot be washed like you would other materials. Leather requires conditioning, moisturizing, and restoration. We remove stains, buff out scratches, and smooth out wrinkles.
Wedding Gown Preservation & Restoration
Our Saskatoon cleaners will preserve your wedding dress to keep it beautiful for years to come. If you have a wedding dress that's retained mildew or stains, we can restore the fabric to like-new again.
Ultra Sonic Blind Cleaning
We also offer ultra sonic blind cleaning, a revolutionary cleaning method that uses sound waves to remove dirt, dust, and debris from the slats, cords, ladders, strings, and wand. At 40,000 cycles per second, these sound waves create microscopic bubbles that shake dirt particles off the surface.
Rush Service
Accidentally spill something on your interview or event outfit? Did you forget to wash your work uniform? Or maybe you have guests coming to town and realize you don't have clean blankets for them. Whatever your situation, The Clean Shoppe has rush service available. We can get your item cleaned and returned to you within 24 hours.